Agricultural
Agricultural
Peter J Mc Donald Engineering is a leading provider of high quality Agricultural buildings in the South East of Ireland. We specialise in the design and construction of all types of Agricultural buildings. The Steel used to frame these buildings can be painted or galvanised depending on the suitability to the environment that they will be used in. The roof and side cladding in our building can be supplied in range of colours to meet our client's preference. Due to the wear and tear that occurs on the farm, Peter J Mc Donald Engineering provides repair and maintenance to existing buildings, livestock feeders, livestock control system and any steel based tasks.
Round Roof

Curved or more commonly known round roofs have been a feature of the agricultural country side for the 20th century. They are a cheap and economical method of providing practical livestock and fodder housing for the practical farmer. These high eve building provide excellent for storage of agricultural machinery and hay and straw bales.

Leanto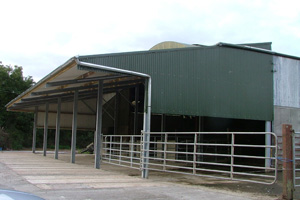 These are free standing or attached structure with a mono pitched roof. When used attached to existing building it is an inexpensive way to increase housing on your farm. Free standing Leantos provide a cheaper alternative to portal or round roof building in the cases where the width of the shed is on the smaller scale. Canopies can be provided off either side of Leantos  to provide further shelter for livestock feed .

Slatted Houses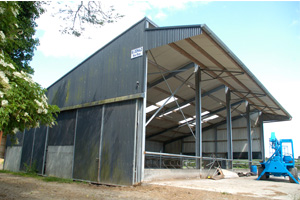 For intensive beef production or diary herds with complete feeding and slurry control system. These building provide essential shelter for beef and diary herds for Irish winter weather conditions. Peter J Mc Donald Engineering works in conjunction with your concrete contraction to provide top of range bespoke buildings.

Portal Frames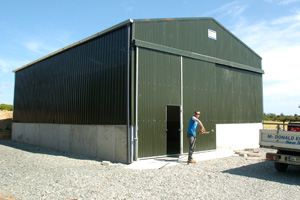 These building are used as a popular alternative to round roof sheds. Peter J Mc Donald Engineering has built these over the years using a range of designs to meet farmer's individual needs.

Barriers/ Feeder Gates
Many Farmer require customised feeding rails and holding pens designed and fabricated specifically for their farm. Cubicles, barriers and gates can be fabricated to enable the safe and hygienic housing of livestock

Extensions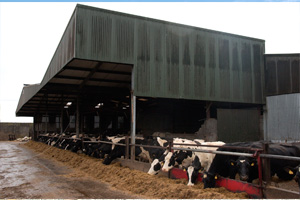 As Farmers look to extend existing buildings, Peter J Mc Donald Engineering provides design and manufacturing expertise to help integrate new structures to current structures. Our years of experience will help incorporate new extensions to seamlessly fit in with your existing buildings.

Animal Shelters
These popular galvanised steel small animal hutches have been recognised as a healthy and low cost method of housing, particularly for calf rearing. Farm yard animals are outdoor by nature but do require shelter to survive in poor conditions. Peter J McDonald Engneering design and manufacturers our range of housing for ponies, pigs and chickens also.